We help customers identify, achieve and maximize their business advantages.

Established in Hong Kong, Ford Business began its business in 1998 with primary focus on environmental businesses. Today we are a vibrant and fast-growing diversified company spanning global product sourcing, raw materials and industrial supplies, civil engineering, environmental services, tailored manufacturing and R&D works.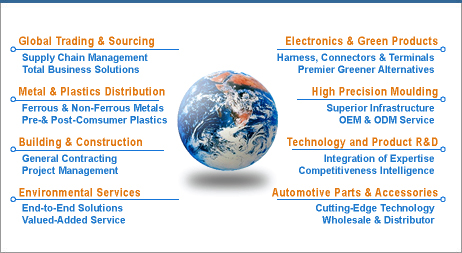 As a business solution provider we are committed to providing our worldwide customers the best quality service and the most competitive solutions. Our effective one-stop-shop services enable our customers to achieve greater profitability, higher efficiency, and more comfort in less time required.

Our business achievements obtained so far have been the fruitful rendering of great effort, work and dedication to benefit everyone involved with this organization.

Ford Business will continue to build on its strength and expertise to grow internationally, and will work towards greater success hand in hand with our customers and business partners.

Caring Organization
Our company is ISO 9001:2000 certified. We integrate ISO14001 (Environmental Management) and OHSAS 18000 (Health & Safety Management) principles in our services.
Talk to Our Solution Specialist
(852) 2959-6059